Station-To-Station Hopping: A BlueSG Review 2018
With ride hailing apps already on our mobile devices, and car rental options on Carousell, is there any advantage to using a point-to-point car rental service like BlueSG? Read this BlueSG review to see if it'll fit your usage needs.
Props to thealphalion who has covered the operations part of the service, and some common grouses along with it. This is a BlueSG review on the location of the stations that I've tried before.
In December 2018, there's been a spate of incidents on social media where BlueSG users originally on the trial membership got slapped with an auto annual renewal by the company.
Here's what the spat was about:
Note to subscribers whose year is not up yet, do set your calendar reminders to call up and cancel your membership ahead of time if you want to avoid this bill shock.
How BlueSG works in 4 steps.
Bring registered credit card to kiosk. The kiosks can be anywhere from street level unsheltered, level 2 of multi storey carpark, ground floor of multi storey carpark.
Tap card at charging station, sleeping screen wakes. It will guide you to the available car after you enter a valid PIN.
Unlock car by placing card on the blinking LED light on the driver's side. The blinking blue light will turn green upon verification. The car door unlocks.
Go to rear of car still on driver's side. To unplug the car from charging, open the charging box, press the round button and wait for it to finish its flashing dance. Now you can pull out the charging cable and plug it into the kiosk.
Ready to drive off into the sunset!
All along I thought we must reserve a vehicle beforehand, and put ourselves under time pressure. Turns out you can walk to a kiosk, tap your card without even opening the app.
BlueSG review locations: 184 Bedok North Rd ground floor, 21 Claymore Road, 504 Yishun St 51 level 2, 91 Pipit Road ground floor, 17 Circuit Road level 2, 809 Choa Chu Kang Ave 1, 902 Tampines Ave 4, 701A Tampines St 71, 78A Telok Blangah St 32, 28 Jalan Bukit Merah, 70 Telok Blangah Heights ground floor, 37 Chai Chee Avenue ground floor, 220 Bedok Central ground floor, 132 Yishun St 11 ground floor, 28 Mohamed Sultan Road ground floor, 296B Queen Street ground floor, 175 Yung Kuang Road, 748 Bedok Reservoir Crescent B1, 233 Simei St 4 ground floor, 21 Jalan Masjid, 12 Eunos Crescent, 547 Segar Road, 425 Bedok North Road, 28 Mosque St, 3 Jalan Ampas, 122 McNair Road, 515 Bedok North Avenue 2, 851 Tampines Street 83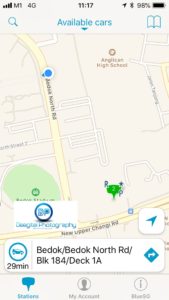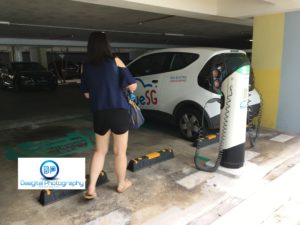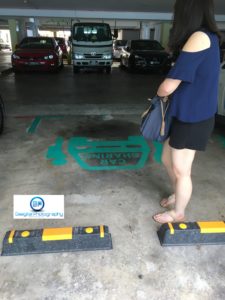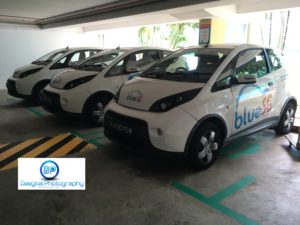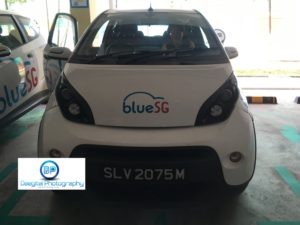 Great spot to have a station. Main reason why I'm using this service in the first place. It bridges the awkward gap between Bedok and Tanah Merah MRT.
Pros: Under shelter, ground floor and near the exit of car park so convenience is great.
Cons: Success rate is about 30% to get a car when you need it and it hasn't been taken by other drivers. When planning the journey home, there may be an available car at pickup location but no more parking space here. Also, turning in to the return the car may mean veering into the path of bus service 222, 14 or 46 that happens to be leaving the station.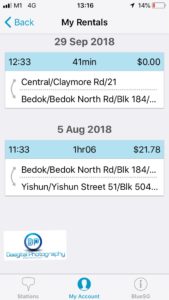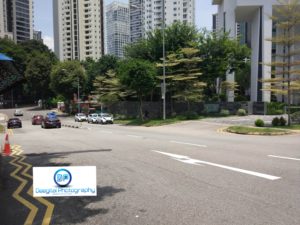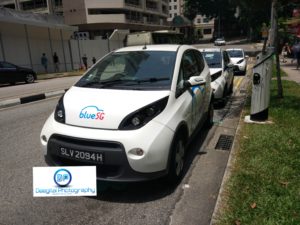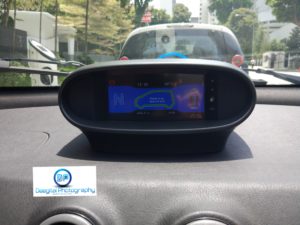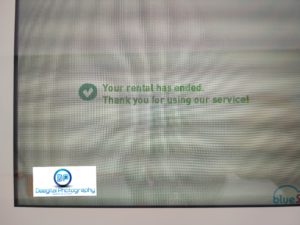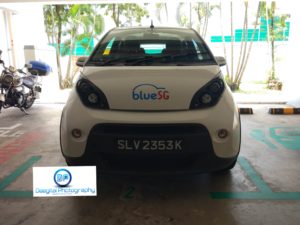 This station is right outside a private residence.
Pros: Station is reasonable walking distance within town and you feel like driving. It's just up the hill past Kam's roast duck / Tsuta at Pacific Plaza, then down the hill again. The road is quite secluded so you can take your time to familiarize yourself before driving off.
Cons: The station is not sheltered so if you're caught in the rain without an umbrella, you're going to be drenched before reaching the car.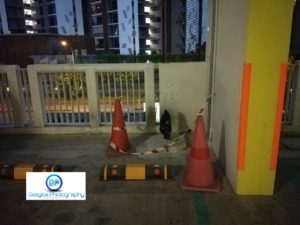 This station is set deep into the heart of Yishun, a couple bus stops away from Yishun SAFRA. You can imagine all the hungry drivers vying for 4 available cars in the day, and many more vying for a parking spot at night.
Jan 17 2019: We have a casualty, 1 station is down. So there are only 2 cars / spaces until the repairs complete.
Pros: Gives the residents an alternative to the feeder bus. Within the same carpark, I spotted Car Club posters on the walls, so you got options.
Cons: Less convenient as stations are on level 2. Not as easy to manoeuvre the vehicle for newbie drivers into this multi storey car park. Difficulty rating to reach this is definitely harder than above 2 stations.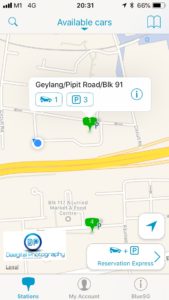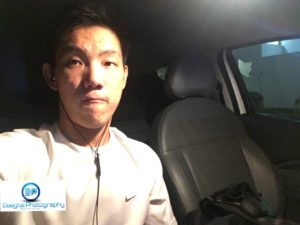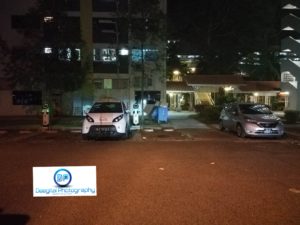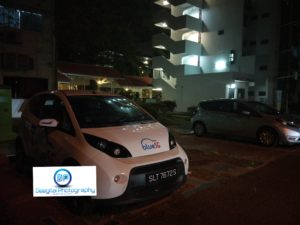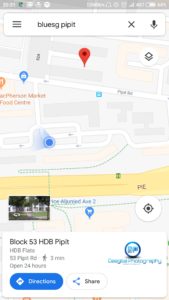 Toughest station to find to date. The rest are quite clear cut because the area to search is small. The station here involves 2 car parks so it could be at either one.
Pros: You'll likely get a car with little competition, because unless you're living in the HDB flat right above it, you probably won't be able to find it. Near coffee shop so you can park and grab something to eat or drink.
Cons: Semi-sheltered, under minimal tree shade. Location on BlueSG app not clear enough, when I finally found the station, I find myself quite a distance from the original place where the app said the cars will be.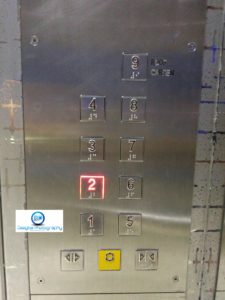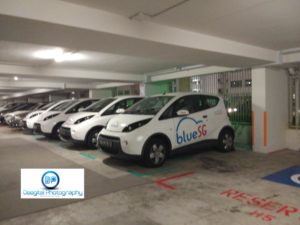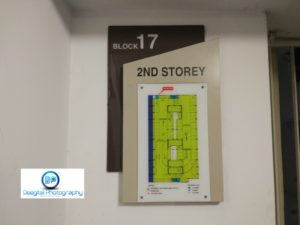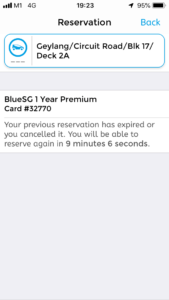 On level 2 of HDB car park. At least this one is clear cut enough because if you take the lift, the station is right outside the lift landing. I learnt from this trip that you will need a cashcard to exit from car parks with the gantry.
This is because I made a pitstop to an HDB estate for McDonald's, and exceeded the 15-minute grace period. Fumbling around for a cashcard incurred a longer booking time, so prepare yourself well.
Remember also to lock the car door by tapping the payment card before leaving.
Pros: Serves the gap between MacPherson and Tai Seng. Easy enough to find the stations.
Cons: Missed the turn to exit the multi storey car park as it's quite a narrow spot, ended up going one floor up instead. Pay extra attention when taking the car out for a spin and you'll do just fine.
Through this rental, I discovered that the touchscreen in the car can actually book your parking slot. Previously I thought we had to book a vehicle, and a parking slot in advance. Well, not if you can handle the uncertainty that while you're on the way, all vehicles are taken. This takes away some pressure of having to reach your destination within 45 minutes.
Pros: Great option for residents of Keat Hong Mirage estate. In addition to the LRT, you can drive there as well. Parking is under shelter, on Deck 1A of the multi storey car park of block 809.
Cons: The turn into the car park is not very prominent. I missed my turn and had to do a U-turn back. Again inside the car park, I found myself reaching 1B first, then go up and back down to find 1A.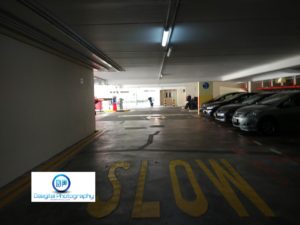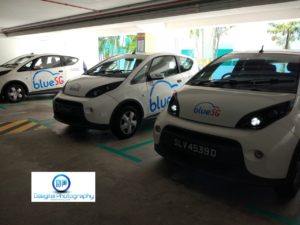 Was hoping I don't get the one where the previous driver forgot to switch off the headlights. Then it struck me that the car won't run out of battery because well… it's plugged in.
And it allocated me the said car.
To reach the BlueSG parking spot at this multi-storey car park, you need to go up the ramp and make a round before coming back down to the parking spot. The directional arrow is against you when you enter.
Pros: Sheltered so you don't burn your butt getting in. Driving off is good as the exit is near.
Cons: Parking here takes longer as you'll need to go up, round and down to reach the spot on Deck 1A. Took around 8 minutes to walk to Our Tampines Hub, under little shelter after parking here.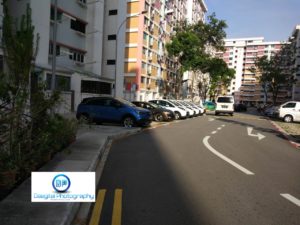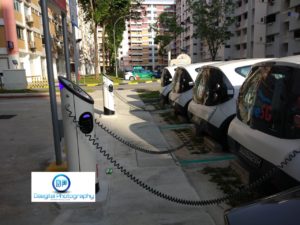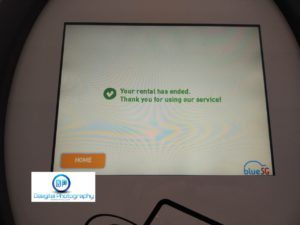 This BlueSG parking spot is closer to the side of Tampines Hub, so you can head to the back of Blk 902 earlier, given that this estate is the long type.
From a Bedok rental, I found a cashcard that the previous owner left behind. There's about SGD 8 inside. Learning point: remember to take cashcard after rental.
BlueSG can also help to remind drivers about this at the end of the booking screen, instead of the generic message it's now showing.
If you're the owner of the cashcard and would like to get it back, do contact me and we can meet up. Found on: 2018 Dec 28.
I encountered some difficulty starting the car. After setting the transmission to D, I noticed the dashboard message saying to turn the key all the way.
Turns out this one is stiffer than others. But I won't get to give feedback as the touchscreen only asks about the cleanliness before driving off.
Would be useful to rate the experience in the app in terms of vehicle condition, to alert the company if any vehicles require attention before the next driver has a go.
Pros: Much nearer to Our Tampines Hub, it's practically just across the road after walking past the floorball and futsal pitches. Ground floor so you get easy access to the cars.
Cons: Little shelter walking there, you get a little sun in your face. And feel the effect of Singapore's sun storing power on the leather seat. If only they can allocate the car that's been most recently parked to provide some relief for users. GPS on BlueSG app to locate the spot is again not very accurate, so I overshot the walking distance.
Pros: Easy to locate the car park, it's a 2 minute walk from a SBS bus 124 stop. It's connected directly to the supermarket, right up the ramp.
Cons: As with other multi-storey carparks, I can imagine returning the vehicle will involve a merry-go-round. At the same time, I appreciate the convenience of not restricting users to have to return the car where they found it.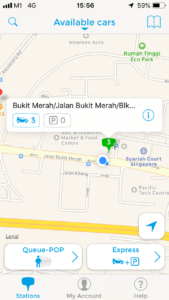 This trip, I discovered how to navigate or find a parking station using the vehicle's touchscreen.
Just tap anywhere on the map and you will find options to either book your parking spot, or navigate to a destination.
Not before a friendly reminder pops up though.
Location of station within the BlueSG app is accurate enough. There are other helpful users adding BlueSG + location on Google maps, soon enough it will help find all the charging stations more efficiently than the current in-app directions.
Shortly after this rental, it also dawned on me that the savings come in the form of petrol costs. The beauty of all this is that you really only pay for what you use, without the need to find a petrol station to top up before returning the vehicle.
Another image that seems unrelated is actually to help illustrate the storage space this car is capable of.
We bought a cabinet from IKEA, with dimensions of 140cm at its longest, and it could still afford a decent look through the rearview mirror. That, plus a shoe rack could fit in the boot with the seat folded down.
The front passenger seat also had to shift for minimal leg room.
Pros: This parking spot is right in front of Refuel II cafe, so you can have meetings here.
Cons: It's a non-sheltered parking area so you are at the mercy of the sun.
Along same line that bus 124 brings you to the above 78A Telok Blangah St 32. Good to feel the effects of increasing car parks within the area. This rental I learnt that you don't always see the sum of parking space vs cars to be 4.
That's because a car can be parked there, but it's charging.
That explains the red light at the bay, so you cannot rent this car, you cannot park at this spot.
Pros: It's accurate on the maps, so you can find it easily. Also sheltered from alighting at bus stop to the BlueSG station.
Cons: Leaving car park is convenient, leaving it will involve heading up the ramp for a merry-go-round before you can exit. Vehicle FV03040 has a touchscreen display that's totally conked out.
Spotted a minions-themed vehicle here.
At this rental, I learnt that after returning the vehicle – meaning plugged in the charging cable – you have about 1 hour where your credit card can still unlock the car.
If it's still there of course.
Pros: Just beside a coffee shop so you can park and eat.
Cons: It's not under shelter so it can get hot just getting into the car.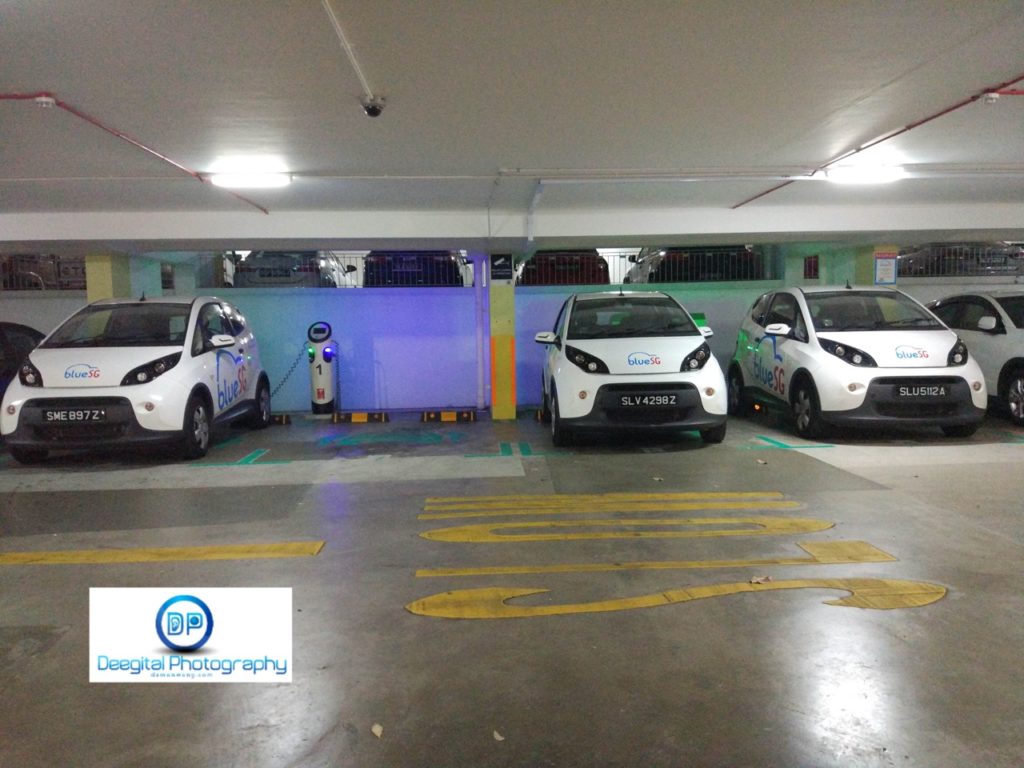 Pros: Under shelter, easy to return as it's just beside the entrance. Not too far from
Cons: That probably means the merry-go-round when you start your rental.
This location is already available on Google maps when you search for BlueSG, yay local for guides!
This charging station is directly opposite Blk 131, with the in-app location blip accurately reflecting the ground level location.
Notice there's a new icon added in May 2019. If there are no BlueSG cars using the charging station, it's open to public too.
Electric cars are going to be available to individual users soon?
Pros: Easy to leave the car park as it's just beside the gantry. Within 10 mins walking from Yishun MRT, makes me wonder why there's even a station here.
Cons: Newbie drivers beware that as you drive off, you may get in the way of someone entering the car park. Can imagine this location to be hot as it's open-air.
Like the Claymore station, this is located really conveniently in town. Seems like a great idea to drive there and get wasted without having to worry about driving home.
Pros: Location is perfect for visitors to Robertson Quay, with its inaccessible location by bus or MRT to many.
Cons: Can be stressful for newbie drivers joining the busy traffic on this street. Get your nerves of steel in order. Probably hard getting this parking spot if you work at UE Square.
Another great location, along a street with heavy human traffic but not so much vehicular traffic. Can definitely see myself hopping into Bugis this way. There's another one at Tan Quee Lan Street closer to the Andaz building.
Pros: Easy to find station, no need to hunt around multi storey car parks, this is in plain sight.
Cons: You are at the mercy of the heat as this car has been soaking up the sun. And bird droppings.
The residents here are gonna need this station, because it's way far west.
Pros: The exit is just shortly after you drive off.
Cons: In the dark, the only way to leave this estate was to turn right upon leaving the car park. Don't bother turning left. Voice-guided GPS took a little too long to update.
2 stations near the area where Refuel Cafe is. Though the map says it takes 11 minutes to reach the station, it took less than that because there's an early crossing to reach this station.
Pros: Can park the car here and head on to nice place to chill, Refuel Cafe or Subway.
Cons: Unless you're staying in the neighbourhood, finding the multi storey car park where the car is parked can be quite tricky as it's on the lower ground level.
Near the condos Simei Green and Double Bay Residences.
Pros: This station is on the ground floor, so you can find it from a distance.
Cons: It's at the mercy of the sun, so prepare to take over hot seats.
Just across the road from Segar LRT station.
Pros: Sheltered car park so you won't get your butt burnt from hot seats.
Cons: Just after turning out, you may face school kids that increase your stress level while driving.
Built beside the main road to serve the neighbourhood.
Pros: In between MRT and expressway, adds value to residents living in the HDB flats in the area.
Cons: Not under shelter so expect bird droppings and hot seats.
Just 3 minutes walk from Kembangan MRT station.
Pros: It's along a road with little traffic so you can drive in or drive out with a little more time to familiarize yourself with the vehicle. In fact it's a one-way street.
Cons: Little support from stations nearby, so you may run into extremes where all the cars are gone, or there's no parking at all.
Compare the Punggol area on the left, where a user is surrounded by rides. And Kembangan on the right. Nuff said.
Located right in between expressway and MRT station. Perfect for residents living in the estate.
Pros: Near Route 66 Cafe and FATCAT ice cream.
Cons: You may get into a hot seat as the cars are parked under the sun.
Safe to say it's a one-way journey if you're headed for pubs here.
Pros: In the evening, you can return the vehicle here. Good thing the road is wide enough for others to pass while you park.
Cons: If you're under time pressure, parallel parking may be a challenge.
At a good location in Balestier.
Pros: Road is wide enough so when you parallel park, you don't feel pressured by cars behind waiting for you.
Cons: It's along a one-way street, getting there seems to incur additional minutes along the busy streets leading to it.
Nearest to Boon Keng MRT station.
Pros: It's right in front of a coffee shop so you can grab something to eat upon alighting.
Cons: Under little shelter from tree, will probably be hot unlocking your car from here.
Learnt a very useful skill at this station because the touch screen was not working. Upon calling customer service, I found out that I can use the Rent button on the phone app to secure my car. That will cancel the existing reservation but it's fine because you're probably in front of the car already.
Pros: No need to go into the multi-storey car park, can leave the place easier.
Cons: No shelter leading to a hot car during the day.
Near coffeeshops and sheltered basketball court.
Pros: Can park and go play ball with friends immediately.
Cons: Not under shelter so car may be hot.
Conclusion
As you can see, charging stations are not created equal. They all have an impact on your usage experience.
Demand and supply may affect you in that the time you need to drive off is when there's no car available. As with low success rates with securing a car, what has stopped me from renting an available one is also when I see a car to drive, but no parking space where I want to go.
Concierge operator responds fast to your distress call, though you may be in a fix if the car park you're at does not have a good mobile reception. Keep this number handy all the same: +65 3163 7800.
So far since Feb 2018, the company has given out bonus rental minutes for filling out a survey, and for its Bedok central station opening, and these help to offset rental costs.
In fact, here's your chance to get 15 minutes of FREE booking when you sign up as my referral. Let me know within the week of signing up, so we can claim the minutes.