Italian Japanese Luka Restaurant Review
Marrying the intricacy of Japanese cuisine with the tantalizing flavours of Italian food, you are about to discover your next food craving when you read this Luka Restaurant Review.
At the edge of Telok Ayer Street nearer the Buddha Tooth Relic temple, you will find this eatery holding its own amidst a sea of Korean restaurants. With the mosaic tiles on the tables bringing you to a era that's long gone, the restaurant decor feels neither Japanese nor Italian. That's fine really, as long as the food brings out the enjoyment that patrons seek.
The person serving us gave some recommendations upon knowing it's our first time there. The pizza and taster plate came as likely candidates. Food came within 15 minutes after we placed our orders. Beer came first, our pint of draught Peroni beckoning to have a sip before food came. As savvy drinkers will know, beer from the tap beats beer from the bottle any day.
The taster plate offers a total of 5 delightful bite-sized treats for your tastebuds. Well 6, if you count the pair of olives.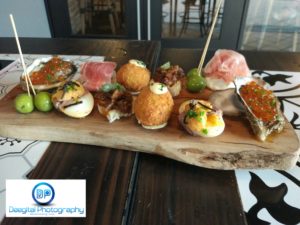 Intuitively you'll eat from right to left, seeing it as an intentional arrangement. The raw oysters go rather well with the roe, in a race to see which one melts in your mouth first.
Soft boiled egg with wagyu wraparound, that's a first. Wait, there's a mouthful of urchin as you finish chewing. A most unusual combination, you'll have to try it for yourself.
The fried ball contains crab with melted cheese, and it reminds me of dim sum. Only it replaces prawn with crab, and cheese in place of gravy.
Believe it or not, the wagyu beef with pickled cucumber served on a slice of bread actually feels like an up-scale hamburger that became tapas. Think about it, the ingredients are similar.
The parma ham with poached egg feels like a hearty breakfast, only the ham has a higher quality texture than picnic ham. And so it feels different from the usual eggs benedict.
If you want quality ingredients while keeping it light, this platter is your best bet to enjoy delightful flavours in bite-sized servings.
There are 2 chef recommendations for pizzas on the menu. Between salami mozerella and buffalo cheese, we chose the buffalo cheese. The crust is thin and crispy, so biting into it is most enjoyable. The crunchiness of the fresh lettuce adds to the enjoyment.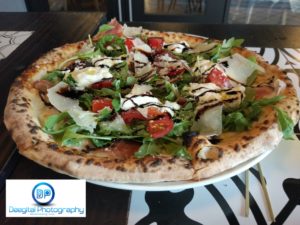 Unlike the usual Hawaiian pizza, biting into parma ham through the thin crust ensures you notice its presence. What's interesting though is that the base of the pizza is hot while the buffalo cheese on top is cold. I pointed this out at the server's inquiry about the quality (yes, we got quite dedicated attention because it was not crowded), and she explained that buffalo cheese has to be served cold.
If you want to sit indoors in the comfort of air con, be sure to make a reservation. As walk-in customers, we only got to sit outside. This despite our best efforts in offering to change seats or leave once the people who placed reservations arrive. So we ended up looking in longingly at empty seats at the air-conditioned area while experiencing Luka outdoors.
Service quality is definitely there. Flexibility in seating arrangements doesn't exist, so be savvy and make a reservation.
The place opens after 6pm, just nice for people ending work to stream in.