OSIM Sundown Marathon 2015 Review
Also known as why I was awake for 24 hours (and why you may wanna try it), this is my experience not as a runner… But as observer of the organization from the sideline.
The evening of 4th July could have been like any other night, spent like any other people – in the comfort of their home, in the company of someone or something that they like, or drinking with friends the legal way. Not me, though, not that night…
The Challenge
Together with 2 other photographers, we decided to head out when others were going home. Well to be specific, we did it with at least 30000 other people. People wearing the OSIM Sundown Marathon 2015 running attire were all over the cabins of the train station, headed in the same direction. Going towards their personal defining moment. And together with 2 others, we were there to bring it some permanence for the runners. On top of selfies that they are more than capable of taking with their mobile devices, we lugged our full set of gear over to a spot along their running route. To hedge against blurry selfies from fatigued hands, especially where I stationed myself – the last 5 km of the annual night race. The deal? To deliver as many photos of runners as I can throughout the night.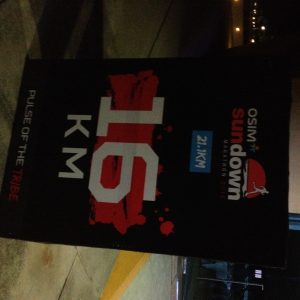 I am no stranger to the running events that Singapore event companies organize, having taken part in a marathon, a duathlon and a sprint triathlon for the sake of progressively challenging my limits. But a night run I have never taken part in. Because sleep seemed to creep its way to top priority the past few years. Why did I then put myself through a sleepless night for a run that I'm not part of?
The Deal
You see, I have a friend running a business on providing sports events photography service to participants. Since he asked for help, I thought to myself why not. Unlike indoor event coverage, this was going to test another set of skills. Besides, after staying up for the all-nighter, appreciating the sunrise from the Marina Barrage may just be worth it.
A few days before, I chanced upon a video preparing photographers who want to take pictures of fireworks. In the prep video, the takeaway was to bring a chair, a flashlight, remote shutter release, tripod, water, ear plugs. Boy was I glad I saw that video. While the subject is different (fireworks vs people), the amount of time put in is similar. For shooters of fireworks, they may have to be there hours before the event starts to get a strategic position to set up their tripod. And claim that space. Because photo enthusiasts do run out of standing room, and you don't see fireworks every day. Turns out the chair that I managed to get at the last minute (just before the shop closed at 9.30pm) practically saved my life. Like how fireworks shooters will need a space to sit down while occupying the spot, I needed a spot to sit down while waiting for the runners to come my way.
Having seen last year's timings, I kind of knew what to expect. The fastest runners finished in around 1 hour. So in between my arrival time and the time the first runner came towards me, I had around an hour to find the perfect spot to camp and wait for my subjects. So I had a chat with the other photog who chose to wait at Gardens by the Bay. To cover more ground, I backtracked towards Marina Barrage.
The Execution
After setting up at what I thought would be a good place for the runner to enter my frame, I waited.
Unfortunately, the runners didn't go along the path I predicted – instead of running where the light shone, they chose to keep to the path of darkness – marring my first hundred shots or so.
The comparison shows just how dark it was before bringing up the shadows in post-processing, shot with a shutter speed that's fast enough to reduce motion blur and control graininess. Even then, you can see how poor the ambient light is – you can barely see around the runner.
The viable solution was to shift to another spot where runners would slow down a little, and stay in the light. So I relocated to the end of the water point to get slower moving subjects. That's where I spent the rest of the night, taking rests on my chair during the downtime where the 21km runners are mostly done, and the 42km runners are not here yet.
Here's tip if you're a runner – it's practically pointless to pose for the camera if you're hiding the bib number behind. How will you find the photo when it is uploaded? I am guessing the organizers may not even upload any unidentifiable runners' mug onto the website. While it is definitely more fun than seeing stoic faces run past, please remember to be able to claim that memorable shot taken with a running buddy too!
The Rewards
A thousand over clicks later, having survived a battle with the z monster, I called it a night and proceeded to hand over the photos to the organizer. Along the way, I witnessed a lovely sunrise over the horizon, and that made my Sunday morning right there.
Would I give up another night's sleep to catch the excitement of an overnight running event, and as a side mission, chance upon the magical hour for the start of a brand new day? If I can crash right away after that, why not! Would you want to be taking photos of sporting events and getting some pocket money for your participation? It's always a pleasure to know sports photography enthusiasts. Drop me a message and we can take it from there!
Bonus – The Fail
Watch the pile accumulate as runners zip by. Pretty decent aiming for most in fact.