Quincy Hotel Singapore Staycation Review
Find out if you'll like the look and feel of spending a night or two at the Quincy Hotel Singapore Staycation from my review.
Towards the end of June, my fiancée and I spent a weekend over in the heart of Singapore. A place we once declared out of bounds for dates because of the mad crowds. Being people who treasure their private time in near seclusion condition, we used to avoid going to town, Dhoby Ghaut being the exception. As this hotel has a reputation among friends as the ideal place for a staycation, she booked a room to give this boutique hotel a try.
The walk from Orchard MRT can work up a sweat. Shelter ends before Goodwood Park Hotel, then it's open-air walking through the car park, up a slope before finally reaching the objective.
Once inside, the high ceiling lobby does its job of making a statement. It makes me feel a sense of grandeur. Even without chandeliers. The transition from the quiet neighbourhood outside matches the pleasantly cozy inside of the hotel. Quiet chattering from a few tables where guests are snacking did little to disrupt the ambience. Perhaps the high ceiling helps diffuse the sounds of cutlery clanking against the plates. Still cozy, with iMacs beside egg-shaped chairs to do causal browsing should you wish to.
After a brief wait at the 2 available counters, we got to check in. I like the welcome drink which came as a surprise. After a walk in the sun, a cold drink always hits the spot. What more it's fruit punch, with ice cubes made from the same juice. Love the attention to details in keeping the juice from becoming dilute. This raises expectations of what's to come, naturally.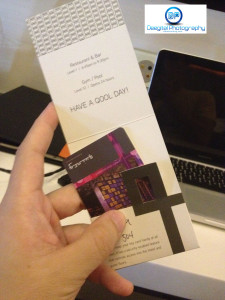 The décor of the studio room feels sufficiently Scandinavian, with a marked departure from traditional hotels. Traditional hotels come with warm pastel wallpaper on the orange/peachy side, while the grey and white neutral tones here give a completely different feeling. Feels almost as if it's intentionally bringing you away from associating it with anything deemed passé.  The bed frame is metal, without the thick platform I'm used to seeing. The hidden overhead lighting makes for an atmosphere of relaxation. There's no other way about it. You know how offices have to be as bright as they can to improve productivity? This room is guilty of violating the productivity rule, and enforces relaxation by making the dim lighting a main feature of your stay. The interior designer probably had fun doing the rooms for this season.
The bathroom doesn't disappoint, with space enough for a bathtub and a separate area for standing shower. Yes it's got the rain shower head to bring out the childhood from of Singin' in the Rain. Appreciate how the shower kit uses branded stuff, though nothing beats what our bodies are used to.
One thing that impresses the geek in me is the control panel below the TV. It has ports for commonly used devices to hook up. Not that you'd want to do that on staycation but business travelers will find it useful to rehearse for their presentation.
An option to use the LAN port instead of WiFi is a nice touch, for the puritan internet marketer who swears by wired connections for their reliability and higher bandwidths. Thinking that I could bypass the sign-in process using LAN, I was sad when the screen asking for password popped up all the same.
Ookla tells me there is no difference in LAN and WiFi speed. There was maybe a more reliable connection, but again it's insignificant. So now you know.
Quincy gives me a hospitable feeling because of the access to the mini bar. Other hotels place a price tag on their items. But upon closer inspection, the reason the other hotels put a price tag is because the items are premium quality – sometimes liquor, sometimes chocolates.
The free access here are soft drinks and the most valuable of the lot is Carlsberg (what, no bar is complete without Heineken!). When I found out there is tea time snacks and dinner, it felt like being on a cruise all over again. Basic meals are all taken care of, no reason for you to step out of the hotel so you can minimize exposure to the merciless Singaporean sun. And maximize the pampering of a tired soul, nursing it back to health through the amenities you will be seeing shortly.
We didn't help ourselves to the mini-bar as it was tea time. With raised expectations because of the experience so far, we headed to the high ceiling lounge downstairs. With a simple process of verifying our room number and surname of the person booking, we're in!
The boutique hotel uses its existing space rather intelligently as we would later discover. Meantime, you may want to visualize the concierge, the iMac stations, the eating area, a meeting room, then the outside seating area for you to have a puff, take 5 in the yellow box what you might call it. That's a lot of activity in a space that's hardly partitioned by anything save for the transition in wall decor.
After that light snacking, it's time to exercise. Right? Before leaving, we got a gentle reminder from the staff that breakfast the next day is best enjoyed at a timing before 9am. That's understandable, with the space constraints of the multi-purpose area and all the guests presumably having meals included for their stay. The service is impressive up to this point, where you feel like valued guests getting an insider's tip from the staff who genuinely want you to enjoy your breakfast experience – but also pre-empting you on the possible inconvenience of missing the window of opportunity. For late risers at least, that is especially important information.
So our Qool benefits do not include the oft-mentioned art jamming that takes place on the deck overlooking the heart of Orchard Road. That's alright, I can't paint very well until there's enough alcohol in the system. Even then, it's probably going to be something only my mother would be proud of. And only if she was looking at it upside down. Glasses off.
That's enough art for the day. It's back to the lap of luxury of the room until further notice.
When the tempting call of dinner wafts of from the coffee house, up the elevator, through the walkway, underneath the gap of the door to permeate our nostrils, it's time once again to leave the best part of the staycation so far.
After getting enough sustenance not to starve for the night, we were in time to catch the waning sunset over the tall buildings in the distance.
While it's nice to know that the swimming pool doesn't have a closing time, you will likely be out of your mind to jump into the icy waters at 1am. Unless you are keen to recreate the scene where Jack gives up his buoy to ensure the survival of Rose. Then again there are 2 buoys. Touché.
The movie of the night was Seventh Son. Played from a first-gen iPad no less. The innovative way of screening movies without the use of elaborate equipment related to the innate bootstrapper in me. But we've seen it before in Langkawi last year. The resolution of first-gen iPad leaves much to be desired, when output to a project that's capable of packing more pixels to the picture. Needless to say, we didn't stay on. We left one couple behind, and passed by another on our way out. That's almost it. One more couple and the venue is officially nearing full house, becoming a fire hazard and requiring signed indemnity forms. That's exaggeration, but it really doesn't cater to cinema-like crowds. I guess people who do stay aren't really there for the movie.
Being the occasional early bird (but admittedly late bloomer by default), I went up to my favourite level 10 to catch some sunrise glory.
The video shows a botched attempt to capture warm sunlight slowly spread across the area. But clouds appear dramatic nonetheless during sunrise, one of two magical hours we have in a day.
After which it's time to head for breakfast, at the time our friendly staff tipped us to to appear.
Allowing a little time for digestion before heading to gym / swim, here are 9 pro-tips that will help you better prepare yourself for a staycation at Quincy Hotel.
You can find drinks outside the gym if you don't see yourself staying a second night and won't enjoy your mini bar top-up by housekeeping.
Leave some things at home to lighten your luggage to carry around – they got you covered for these.
With reference to previous image captions. I don't know what you'll use the hidden ironing board for. I used it as a replacement for my camera tripod. Maybe if you're a business traveler who needs to keep your shirts pressed.
Save money on some snacks for the late night munchies. You don't have to stock up on stuff that's available here, do you?
Ensure your device is really charging when you leave the room.
You worked your ass off so you deserve a good break in the comfort of this hotel for your staycation. Make sure you treat it well too. Don't be caught with your pants off for this one.

Not all breakfast timings are created equal. Some come with less crowds and a more enjoyable experience.
Keep track of what's what. Inside similar-looking covers, it can get confusing.
Good on you for bearing with this rather long post. A quick conclusion of our experience at Quincy Hotel is that couples who like a self-sufficient weekend escape from hectic city life can find solace in the boutique hotel. Food does pose a problem if you know yourself to be one who lives to eat. It is discouraging to walk to Far East Plaza for food, and the food from the cumulative three meals there are hit-and-miss. Even for a recycle bin. That said, you really can't go wrong with a softee with either peanut, rainbow or raisin toppings followed by draping your feet in the pool, or running on the treadmill as the sun sets over the little red dot. With the right company, a weekend spent at Quincy may just rejuvenate your mind, body and soul for the road ahead.
If you'd like for us to review something for you, get in touch now.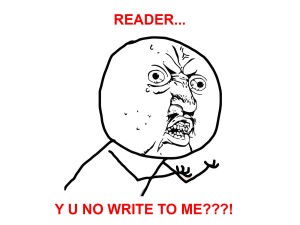 Got a product/service you'd like reviewed? Let us know.