Rasa Istimewa Waterfront Restaurant Review – The Unexpected Discovery In Woodlands Waterfront Park You Never Knew Existed
Some know it by the official name of Rasa Istimewa, which should bring out some special feeling when you're feasting on seafood there. Read the Rasa Istimewa Waterfront Restaurant Review to see how it will make a regular customer out of you… especially if you live in the Northern part of Singapore.
People working there call it the Waterfront Restaurant.
That's where the person said where he was calling from, 10 minutes after we left our name on the reservation list.
You'll probably be one of the many who will walk past this unassuming restaurant on your way to appreciate the view towards Johor, across the straits. And, no one can blame you for it.
After all, you're going there because you need to let the kids run loose so you can be sure they'll fall asleep at night. Or, you prefer to unwind at Woodlands park there because it beats having to spend hours to reach the beaches of Sentosa or East Coast Park.
It doesn't help that the only signboard to attract diners is a wall split into 3 panels showing pictures of ingredients. Nothing about the place will convince you that you should spend your time eating there.
Not even if it offers a view of the sea, not even if the atmosphere can be romantic to stir up some special feelings in the heart of your date.
Because what could be worse than spending your time and money at a restaurant in the middle of a jetty, only to validate your nagging suspicion that without competition from neighboring F&B establishments, the food probably sucks, right?
We thought the same too, seeing that it's the only place to eat in the entire park.
It's only after clocking 10,000 steps strolling from end to end that we decided to seriously consider going to Rasa Istimewa for dinner.
Even the name stirs up some caution.
What kind of special feeling, the bad kind that you will never forget? Because special is so subjective, when it comes to our tastebuds.
Is it especially spicy?
Especially pricey?
Or will the bill shock cause you to never forget this place as the first and last time you'll visit?
Upon reading the existing reviews, we felt more assured. It has received largely positive reviews after all.
So much so that we found ourselves headed towards a rather crowded space after the stroll. We even had to leave our contact on a wait list.
Upon a quick estimation inside the air-conditioned dining area, I notice that it can fit 160. Despite it looking rather small against the backdrop of the stretch of buildings along JB across the straits.
And it was near full capacity on a Sunday night.
This raises expectations quickly, and we ordered from a menu offering seafood, vegetables, tofu and desserts. Just like what a decent tze char restaurant has to offer, only it's right smack in the middle of a jetty and it feels pretty darn special to dine here.
Admiring the sunset through the windows, offering an unobstructed view of the city as it closes the chapter to yet another day.
While the air-con environment helps ensure a basic level of comfort, I didn't appreciate how the dining establishment felt rather enclosed, with diners trying to out-talk one another. An infant decided that it's his turn at the open mic, and took to test his screaming vocals at the table behind us.
He even discovered that he could control the level of overdrive while auditioning for The Voice, Screaming Babies Edition.
Misfortunes aside, the quality of food is worthy of its 3.5 to 4 star rating online.
The veggie is crunchy, feels fresh and doesn't come with the surprise of grinding sand. Good effort on keeping it yummy.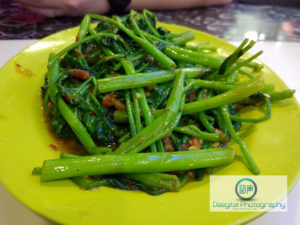 The cereal prawns feel bouncy to the bite, with plenty of meat between bites.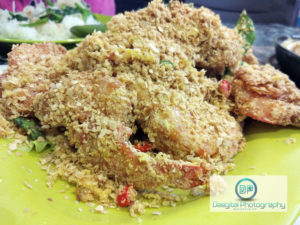 The hotplate tofu with seafood offers plenty of egg tofu, squid and a base of egg white that wasn't too charred. Just the way I like it.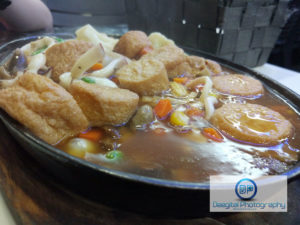 The Milo looks legit.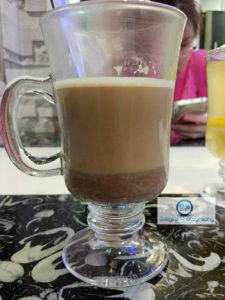 The honey lemon has a generous amount of honey, together with 3 slices of lemon.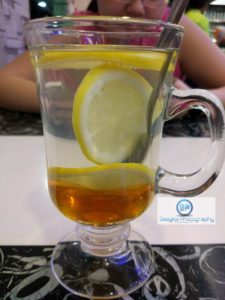 Let's leave the pictures to do the talking, as you bookmark this restaurant to be a place to come with family. 3 courses, 2 drinks and 2 servings of rice worked out to be SGD 60. For the view and quality of food, we will gladly do that again.
The lunar new year set meals have been updated at the back of their printed menu, you can call 63669339 to celebrate the occasion.
Getting There
Set your GPS to bring you to: Admiralty Road West, Singapore 759956.
A bus ride on 856 will bring you there too.
[Bonus] Your reward for reading thus far: scenes around the park that show activities you can consider doing before heading for dinner at the Waterfront Restaurant.