Best Badminton Court For SAFRA Members In Singapore
Do you love playing badminton? If you want to know what is the best badminton court for Singaporeans who happen to be SAFRA members, you must check out this review complete with pictures.
There are 3 courts for badminton at the moment for badminton enthusiasts at SAFRA. If you like spending your weekends recharging at the clubhouse, and would like to engage in a sport that does not leave you at the mercy of the weather, this badminton court review may be the most important thing you read today.
Here are the photos of the 3 badminton courts at SAFRA – Tampines, Toa Payoh and Mount Faber along with comments of the venues. Feel free to chip in to share updates with badminton enthusiasts out there.
SAFRA Tampines Badminton Court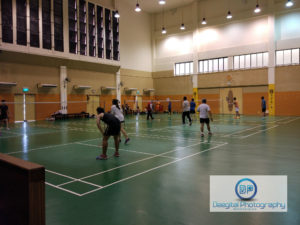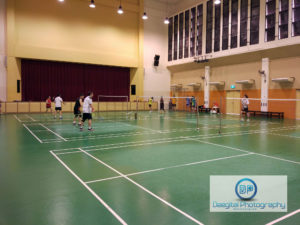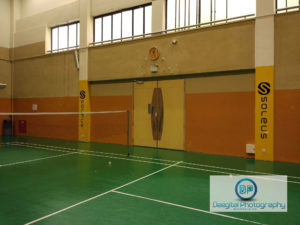 Number of courts: 3
Tampines feels stuffy if you don't switch on the fans. And if you do, it will affect shots headed for the baseline. You'll always incur the look of irritation if you enter the court and do not close the door (pictured above) properly behind you. Closing the door requires a patient technique, because it doesn't remain closed if you slam it.
You have to set up your own net every booking. Exchange for it at the counter with your SAFRA card. If the staff happens to be engaged with someone then you'll spend some time waiting. So go early, or negotiate with the person before you to keep the net there and you hand over your card to them. They will claim theirs back and put yours with the staff.
Pro tip: Check carefully when booking, else you will end up like a poor aunty who made the wrong booking and spent her afternoon being a spectator instead. This is TM. More on the aunty later.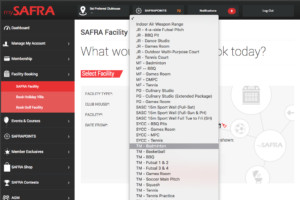 SAFRA Toa Payoh Badminton Court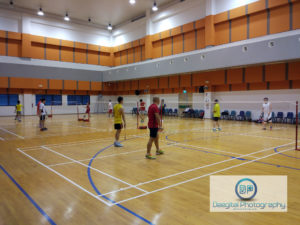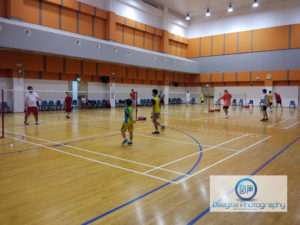 Number of courts: 3
What I like is that Toa Payoh's courts are new. It's located beside the squash courts at the end of the second floor, and even if you open the doors it doesn't feel like the wind affects your game.
This aunty came over to our court after the first hour of our 2 hour booking, with her rackets and all. We had to pause our game to examine how come the timing and court is the same as ours. Then I spotted her booking that says TM. She had come to TP. In all fairness, the expressway is indeed TPE for Tampines Expressway. So there's definitely lesson learnt.
To book Toa Payoh badminton court, pick TP.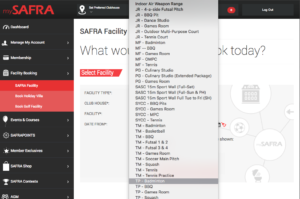 SAFRA Mount Faber Badminton Court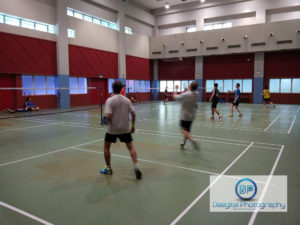 (outdated)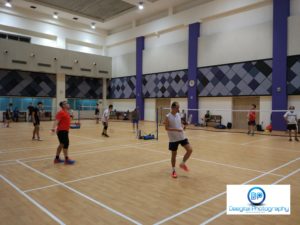 (Jul 2017)
Number of courts: 3
What I do not like is that you can smell if smokers take a break outside Mount Faber's courts. Even worse if you are in the midst of an intense rally that brings you all over the court, and you're gasping for air. In Toa Payoh and Tampines, it's not so appropriate to smoke right outside the courts unlike Mount Faber which feels outside is the outdoors as a legit smoking area.
The flooring is quite worn out as you can see.
The fresh smell of lacquer greets you as you enter the courts. Unfortunately, the grip is not very strong so you won't be able to sprint confidently.
Pro tip: Remember to bring your cash card with your membership card to the security counter before leaving. Whether it's your car or your friend's car, you will enjoy 50% off for parking.
For SAFRA badminton courts, the best one you can get is Toa Payoh at the moment.
Click here to practice your netting skills anytime, anywhere.
Bonus venues:
Bedok View Secondary School, Tanjong Katong Secondary School, Bishan Sports Hall, Our Tampines Hub, Yishun Sports Hall, CSC Tessehnson Road, Sengkang Sports Hall, Clementi Sports Hall, Palm View Primary School, OCBC Arena, NUSS Guild House, North Vista Primary School, Zhangde Primary School, Woodlands Sports Hall, Bedok Heartbeat, Peirce Secondary School, Yishun Primary School, Delta Sports Hall, Ping Yi Secondary School (coming soon). Do leave a comment on court updates if you know of any!
1) Bedok View Secondary School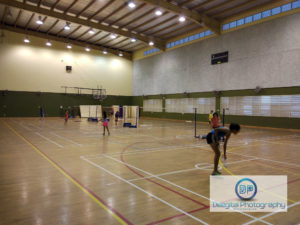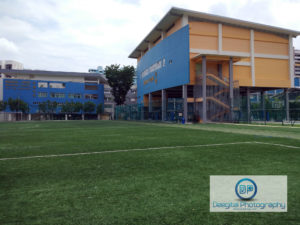 Number of courts: 4
Location is good, with many buses stopping along New Upper Changi Road to get you there. Wooden flooring makes a lot of noise when sprinting across the court. Lighting is not very bright, and feels stuffy without opening windows. Upon opening the windows, the glare causes a bit of a distraction.
Thankfully you'll reach the court after climbing 4 flights of stairs, much better than some other schools like Bedok South Secondary School. You won't pass by the water cooler on your way to the court. Instead, you need to take the exit through the other end, down one level to find the washroom and water cooler.
2) Tanjong Katong Secondary School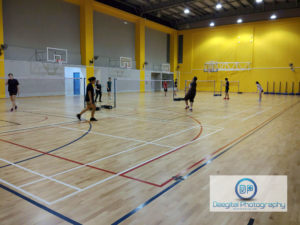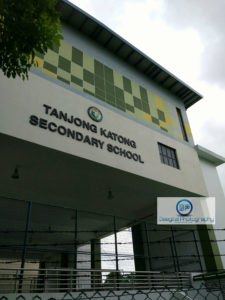 Number of courts: 4
There are 2 ways to enter. Use the one along Dunman Road, and walk till you see the facade pictured above. If you go by Haig Road you may not be able to access the courts. The school attendant keeps watch.
Like Bedok View, it feels stuffy playing in there. If you open the windows, there is glare.
Good thing is the water cooler is on the same level as the courts.
Flooring has good traction.
3) Yishun Sports Hall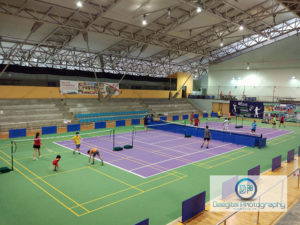 Number of courts: 4
Reasonable walking distance from Khatib MRT. Much better ventilated than schools, with higher ceiling too.
4) Bishan Sports Hall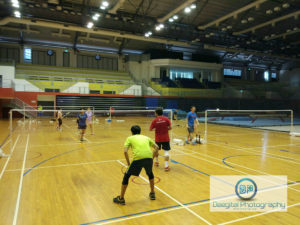 Number of courts: 4
Reasonable walking distance from Bishan MRT.
Layout is different from most halls which are in a single row. This provides a slightly more distracting scene with someone moving in the background.
Lighting is not very bright.
5) Our Tampines Hub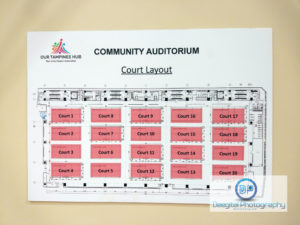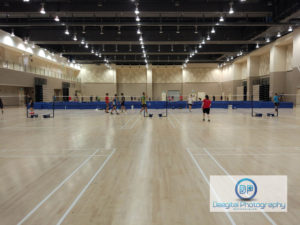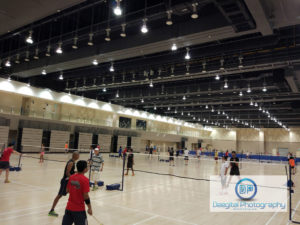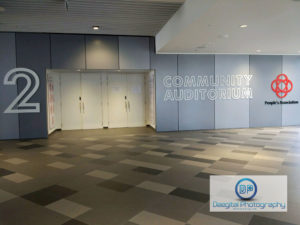 Number of courts: 20
Edit: I hear feedback that this place does make you feel very hot. Players complain of not being able to last 2 hours. This took place 4 weeks of its opening. We went 2 weeks into the opening, maybe conditions were different. One thing we can agree on, the spot light overhead does generate some form of unwanted heat. So it may not be all stuffy due to ventilation.
The latest one to open in the east, so the courts are in newest condition. Can get distracting from the neighbours all around.
The benefit of having a huge space dedicated to badminton is that you get good ventilation. The changing room and bathroom are much better than the ones in schools.
It's within walking distance from Tampines MRT. And on an unrelated note, the food options are great after a game.
6) Civil Service Club @ Tessensohn Road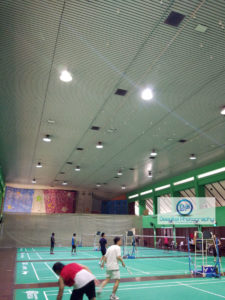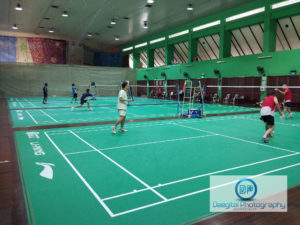 Number of courts: 4
One of the few that has rubber flooring, the other being the air-conditioned OCBC arena. Provides good traction for prancing about the court.
Shuttlecocks tend to get stuck to the ceiling over here. So if you're a high hitter, prepare lots of spare shuttlecocks to leave your mark.
Well ventilated with good lighting, this court is popular even on weekday evenings.
7) Sengkang Sports Hall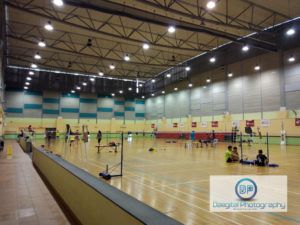 Number of courts: 8
Walking distance from Farmway LRT station, the sports hall is well lit with good ventilation. The more courts, the better ventilation. In this sense, schools are at a disadvantage compared to sports halls.
A portion near the doors are partitioned off, but there's plenty of space for shuttlers to have a work out.
8) Yio Chu Kang Sports Hall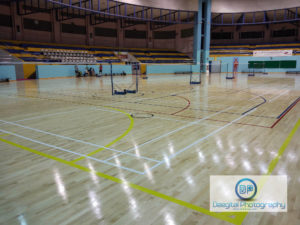 Number of courts: 6
Reasonable walking distance from Yio Chu Kang MRT.
In March 2017, the smell of fresh lacquer on the floor boards prove quite suffocating to players. Otherwise the flooring provides good traction, after the refurbishing. Give it a few months, and it will be better.
The court layout is a little irregular, 4 are side by side while 2 are perpendicular. This makes it a little distracting if you happen to be facing the direction of the 2 courts.
9) Clementi Sports Hall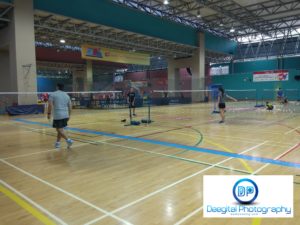 Number of courts: 16
Location is really good, because you can enjoy good food at the market nearby. There are table tennis courts in between the badminton courts, so it will be distracting to anyone facing them. Flooring has good traction.
In April 2017, the water cooler outside the washroom on the right is not working very well. Good thing is there are 2 of them, so you can use the one on the left to fill your water bottle.
10) Palm View Primary School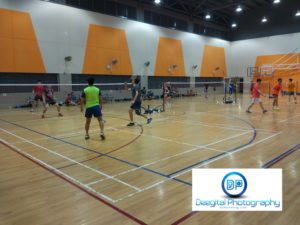 Number of courts: 4
Reasonable walking distance from Buangkok MRT station.
2 things about this court that are deal breakers. First, you climb 6 flights of stairs to reach the court. If you see that as warm up, then disregard this and turn it into a plus point. Second, the flooring is slippery for non-marking soles. Using running shoes, it's a little better.
Ventilation is not good, so there are people who open the windows only to be chastised by other players.
Perhaps the only good thing about this court is the lighting. It is bright, and doesn't blind you as much as some other courts do.
11) OCBC Arena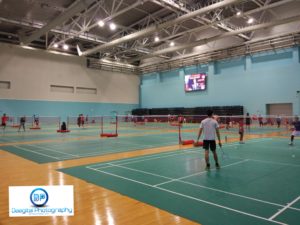 Number of courts: 16
The winner hands down in terms of court condition. Rubber mat ensure proper friction for sprinting. High ceiling so your shots won't get stuck like at CSC.
The thing which is both a blessing and a curse? The air conditioning.
Some players will attribute a bad shot to wind. Some players don't care as long as they don't sweat buckets while still being able to enjoy a game in sheltered air-con comfort.
Personally, it does feel like you need to run more to work out a real sweat. But since it's been getting easier to book this court lately, I'm not complaining.
12) NUSS Guild House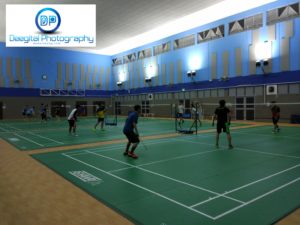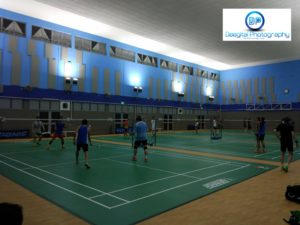 Number of courts: 4
Not a convenient location unless you drive. If you're taking public transport, prepare to walk up a hill as warm up before reaching the court on the 2nd floor of the club house on NUS campus.
Lighting is adequate, not shining from the top down unlike most courts. However, the glare still comes from other light sources.
Ventilation feels much better than many other courts, and doesn't feel stuffy. Temperature is well regulated so it feels like it's 27 degrees indoors without any fans to affect the flight of the shuttlecock.
Traction is very good with the rubber mat, so you can sprint without slipping.
13) North Vista Primary School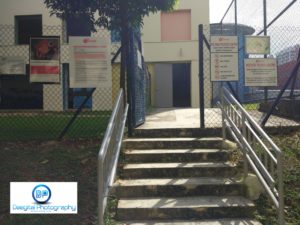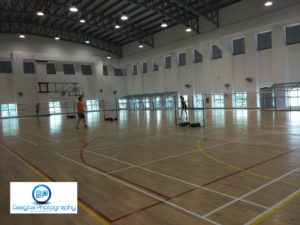 Number of courts: 3
One thing that differs from many other courts is that it is brightly lit up. Not by overhead lights only, but by the glass windows surrounding it. So smart players will know to book the middle court whenever possible.
Because as experience will have it, the courts along the edges are subject to more distraction from lights. This makes it easy to return high shots. Many lines on the floor boards prove to be confusing to dispute shots that are out of play.
14) Zhangde Primary School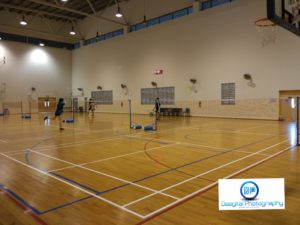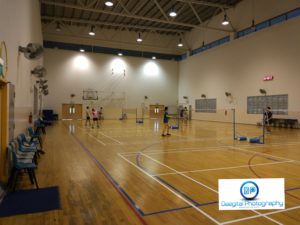 Number of courts: 4
If taking train from Tiong Bahru, take the first right you see when you approach the fenced area of this school. Then you'll see the road pictured above. Missing this right will result in a big round and a dead end.
Flooring has decent grip, but markings for other sports will make it hard to spot any shots that land in contentious territory. Good thing is the water cooler outside the male washroom dispenses water relatively fast compared to many others.
15) Woodlands Sports Hall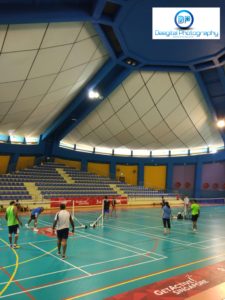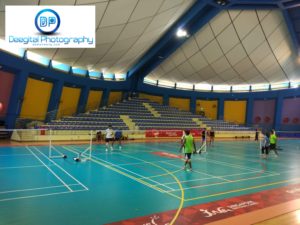 Number of courts: 4
During day time, the sunlight helps brighten the court. This makes it easier to spot a flying shuttlecock. Many courts rely on lights so you'll enjoy the brighter feel.
The floor is better than wooden material, but the different line marking can be confusing.
16) Bedok Heartbeat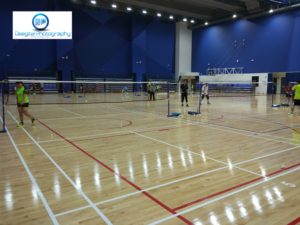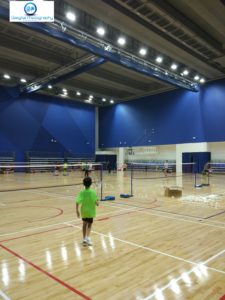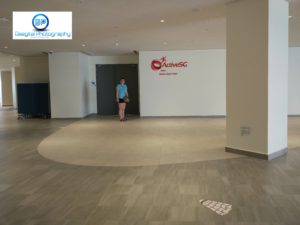 Number of courts: 8
Take the lift up to Level 4, and follow the shuttlecocks on the floor to find the court. Court is new as of Oct 2017, so the smell of lacquer is present on the flooring.
Grip is pretty decent, and there are 2 line markings on the floor. compared to 3 or more at schools.
There are curtains to prevent wind from disrupting your game, but courts near the entrance may still be affected by people coming in and out.
17) Peirce Secondary School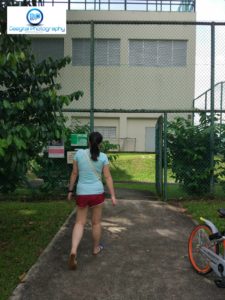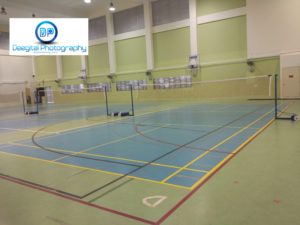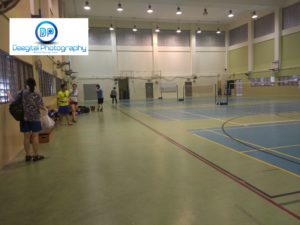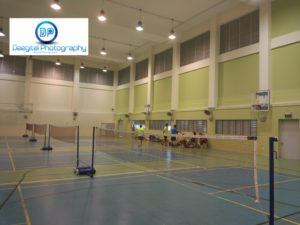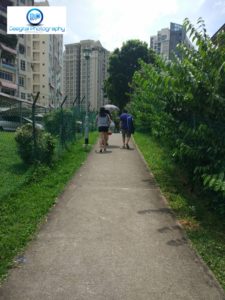 Number of courts: 4
Quite inaccessible unless you drive there. Best thing about this court is you don't need to climb stairs to reach it. As with most schools, it takes a while to figure out where the sports hall is.
This is no exception, you'll walk along the river for a bit before finding the entrance. Despite a run-down appearance, the flooring still affords decent traction for your shoes.
18) Yishun Primary School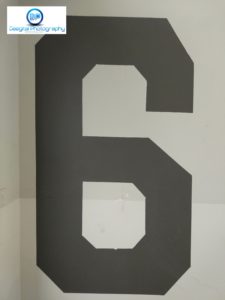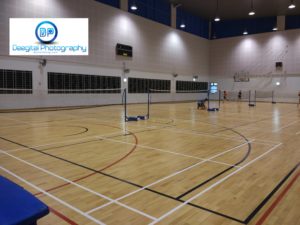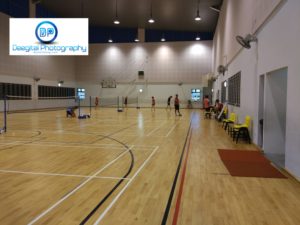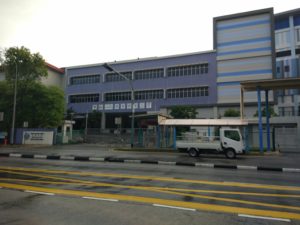 Number of courts: 4
Entrance to this school is hidden between Ahmad Ibrahim Primary and Yishun Primary. Right smack in the middle of both schools. Miss it and you'll end up like us, warming up through a brisk walk around both compounds.
And then walk up 6 floors to arrive at the court, all ready to hit some shuttlecocks in rage mode. Net is visibly lower than many other places we tried. You may want to prop it up with discarded shuttlecocks.
19) Delta Sports Hall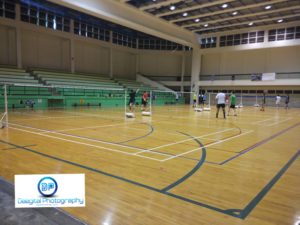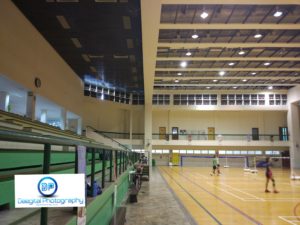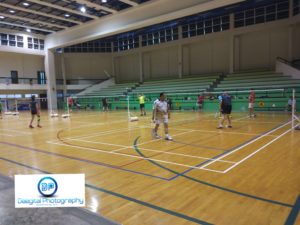 Number of courts: 4
One of the advantages of this court is that it's within 7 minutes walking from Redhill MRT. Ceiling is high so good news for high hitters. Was blinded by the lights overhead on a couple occasions waiting for a lobbed shot to land. Maybe because there are so many light bulbs.
Flooring is well worn as of Dec 2017, so there's not much friction underfoot. That and the floor feels quite dusty. Washrooms and water cooler are on second floor.
(to be continued…)
Click here to practice your netting skills anytime, anywhere.
2 responses to "Best Badminton Court For SAFRA Members In Singapore"