Hotel Royale Chulan KL Review
Will you feel like royalty staying here? This Hotel Royale Chulan review of the room and breakfast helps you be certain.
Here are some reasons in this Hotel Royale Chulan review to consider staying here too.
Over a weekend trip, we headed to Kuala Lumpur to spend some time in a city that has lots of good food.
Location
The location of Royale Chulan is not near public transport. You need to take the train from KL Sentral to KLCC and walk the remaining distance of 1.6km.
It's about 20 minutes' walk, or you may use a ride-hailing app to get yourself there for the last mile.
We walked 1km to find local food at Ampang Yong Tau Foo.
Surrounding the hotel are other higher end hotels, that you'll pass by before reaching Lot 10 shopping mall that is 15 minutes away.
Comfort
To make up for the rather secluded location for non-drivers, the room is sufficiently spacious.
We stayed in a deluxe room, affording a sprawling 41 square metres of space for the 2 of us.
The room is done up in traditional style, with Victoria lamps and furniture. Complete with the wooden frame full-length mirror, it's a pity we didn't dress according to the theme.
I do enjoy sinking into the Chesterfield sofa, propping my feet up to relax. Newer establishments rarely give the sofa so much space.
Service
The breakfast service was smooth, that speaks well for the hotel.
If there's no big issue that requires service, we're happy to be left alone.
Some reviews online mention the slow service, that is not a deal breaker for the 5 star hotel.
The management responds to poor reviews on Google maps within 5 days, showing they care for their reputation.
Conclusion
For guests picking between Royale Chulan Kuala Lumpur vs Royale Chulan Bukit Bintang, note that the latter is currently at a lower rating.
Royale Chulan Kuala Lumpur: 4.3
Royale Chulan Bukit Bintang: 3.9
Plenty more in the franchise to explore, I've only mentioned 2 of the 9 properties they have all over the world.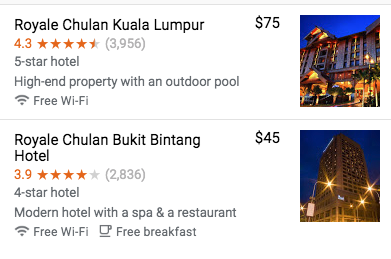 In that case, you're better off staying at Hotel Imperial at Bukit Bintang, it has 4 stars.
Enjoy the room photos and breakfast video of this hotel.
Share this Hotel Royale Chulan review with friends that are considering this hotel for a couple's getaway!